Bluegrass Banjos
Demo videos by Ross Nickerson
Beginner Banjo Packages
Goldtone Beginner Banjos and Learn Banjo Package Deals
Beginner Banjos
CC100R
CC100 OpenBack
CC100RP
CC100RP Plus
OB and BG Bluegrass Models
OB 250+ Orange Blossom Plus
OB250
OB250 Archtop
Bluegrass BG-250
BG250-F
Maple Classic
Cripple Creek 100R
OB-500
OB-300
Travel Banjos
BG-Mini
CC-Mini
The Traveler
CC- Traveler
The Plucky

Specialty Banjos
Banjola
Dojo
Dojo DLX
Pat Cloud Banjola
Banjola Deluxe
Tranjo
Cripple Creek 50RP

Openback Banjos
White Ladye
Cripple Creek
Cripple Creek Mini
Elite Classic
Bob Carlin BC-350
White Ladye+
White Ladye
Maple Mountain
CB-100
Cripple Creek
Cripple Creek Mini
Cripple Creek 50
Guitar Banjos
Electric Banjitar
Banjitar Deluxe
Banjitar
Lightweight Model
Banjitar 12
BT-2000
Cripple Creek Banjitar
CC Banjitar (vintage brown
Banjo Kits
OB-250 Banjo Kit
MC-150 Banjo Kit
Parts
Banjo Replacement Parts
4-string Banjo
Irish Tenor
Tenor Special
Tenor Special AT
Plectrum Special
Cripple Creek Irish Tenor
Cripple Creek Tenor
Cripple Creek Plectrum

Electric Banjos
EBT
EBM
Other Specialty Banjos
Bass Banjo
Banjos Ukes
Banjolele
Banjolele Uke Deluxe
Uke
Mando-banjo 850
Basses
Upright Electric Bass
Electric Acoustic Basses
Other Gold Tone products

We carry any and all of GoldTone products shipped directly to you at the lowest prices.
The links just to theright for the mandolins and guitars link to Goldtone.com. If you see one of those models there you want, return back to Banjoteacher.com and purchase at our much discounted price.
Mandolins
GM-110
GM-70
GM-50
GM-6
Octave
Bass
ABG-4
ABG-5
Bass Banjo
Club Bass
Guitars
Lap Steel Guitar
Metal Body Tenor Guitar
Tenor Guitar
ChordoHarp
Signature Series
Weissenborn Guitars
Paul Beard Resonators
Rigel Mandolins
New Instruments
Accessories
Cases
Parts
Clothing


GoldTone Banjo with Six Strings CC Model Banjo/Guitar
All Gold Tone Banjos on Sale at GoldtoneBanjo.com
Hi, This is Ross Nickerson. I answer all calls concerning Goldtone Banjo Sales. I have been a Goldtone Banjo Dealer since 2003 and know quite a lot about all their models. I am professional player and have been teaching banjo most of my life. Feel free to call with questions on all their models. I'm glad to help.
Toll free 1-866- 322 -6567
Banjo with Six Strings CC Model Banjo/Guitar from Goldtone Banjos and BanjoTeacher.com
Gold Tone Banjos and Banjo Products on Sale!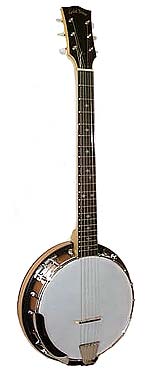 The Cripple Creek 6 string Banjo Guitar has the same pot and soundparts as the CC100R models but with the six string neck. It comes in light maple finish or deep brown for the same price.

.......Hi Ross, I received my Gold Tone banjitar on Thursday and my banjo strap today. I love them both. The banjitar is awesome. It sounds wonderful and it put a whole different kick to our trio. Thank you so much for your wonderful service. I know I did not give you lots of time to fill this order, but you came through and I am just delighted in the banjitar and in you and banjo teacher.com. If I need any other string products, be sure I will be calling upon banjo teacher. Sincerely, Kathy Van Deventer
Click here for more complete information, pricing and other details
Instruments come set up and ready to play

Call 1-866-322-6567 if you have any questions about the price, and what's included.
Visa, Mastercard, Discover, American Express, Paypal

We ship to Denmark, Sweden, Germany Canada, Thailand, Philippines, Australia, New Zealand, Iraq, Italy, Japan, UK and Ireland. We will ship anywhere!
...Wow!!!!!!!! Hi Ross! I picked up my new OB 250+ today. I'm so impressed. I guess new owners are a little prejudiced, but I gotta tell ya, this has got to be one of - if not the most beautiful banjo ever!!!!!!!!!! And it sounds so great!!!!! It is absolutely one of the best buys I have ever made. I know I sound like a silly kid, but it was much more than I expected, and I expected a perfect instrument in every way.
Price posted below is 25% off Goldtone's retail price. Our prices include free US shipping, an international shipping credit, complete banjo set-up and other free items that are listed on each banjo's individual page. Call Ross if you have questions or need advice I personally answer all calls and if I am on the other line, I return calls promptly. Callers can also choose another DVD or substitute free items with their banjo purchase. Call toll free: 1-866-322-6567

More d etails and FAQ on ordering Gold Tone Banjos online from our company
For Phone orders and more information
Call us
1-866-322-6567

GOLDTONEBANJO.COM CARRIES ALL GOLD TONE MODELS AND ACCESSORIES TOO!
We have most of the models pictured and priced on the website but if you don't see it, we still carry it, and at the lowest price. FAQ
COMPARE OUR PRICES AND ALL WE OFFER WITH EACH PURCHASE - GOLDTONE BANJOS COME SET UP AND READY TO PLAY
*Free Fundamentals of Five-String Banjo Book CD, and DVD By Ross Nickerson. This is a 52 page book with two CDs and a DVD (29.95 value) The lessons are played slow and faster on both the CD and DVD. If you are not a beginner or you have that book already, we'll send another Book and CD by Ross Nickerson free.
*Free Lesson Membership with purchase of any Gold Tone Banjo. 24.95 value plus discounts you receive when you are a member.
*Goldtonebanjo.com price listed below is 25% off Goldtone retail price. Prices includes free US shipping, or international shipping credit, banjo set-up with other free items.
*Please call for more information, questions or advice.
1-866-322-6567 Visa/MC/Discover/AM Express/Paypal accepted

Price posted below is 25% off Goldtone's retail price. Our prices include free US shipping, an international shipping credit, complete banjo set-up and other free items that are listed on each banjo's individual page. Call us if you have questions or need advice I personally answer all calls and if I am on the other line, I return calls promptly. Callers can also choose another DVD or substitute free items with their banjo purchase. Call toll free: 1-866-322-6567